X
Looks like you are a new visitor to this site. Hello!
Welcome to Hope For Film! Come participate in the discussion, and I encourage you to enter your email address in the sidebar and subscribe. It's free! And easy! If you have any suggestions on how to improve this website or suggestions for topics please don't hesitate to write in to any of the blogs.
You can also follow me on Twitter or Facebook.
(If you keep getting this message, you probably have cookies turned off.)
Black Palace is a Mexican-based street art installation by the NY-based artist WK. This short doc on it's installation is pretty great unto itself.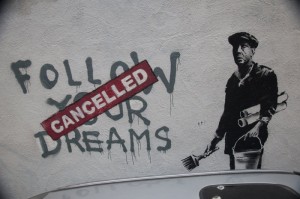 Banksy in Boston…
Thanks to James Lilly for spotting & FBg this!Tweet

I probably have posted this before, but what can I say?  Blu has been one of my favorite filmmakers since stumbling across his work in a Chelsea Gallery.  Do yourself a favor and dig around here for more of his work.Tweet

My favorite film of last year was BLU's building piece. It may well be my favorite internet viewing of all time. My stomach's been growling for something new from him to consume. What a delight to wake up and find this on my plate.
Thanks to Doodlage, last week I stumbled upon this Japanese doodling crew, Rinpa Eshidan.  Ever since I wandered into a Chelsea gallery last year and saw the work of Buenos Aires based Blu I have been hungry for more "draw over" work.
Blu and this Japanese crew go at with an exuberance that's hard to beat.  Blu's got more of a narrative blend and complete mindblowing silliness.  Rinpa Eshidan is more decorative, but certainly not lacking in the other departments either.  We featured them over at
Bowl Of Noses
last week, but you can expect to see more of them I am sure.

Banksy maybe becoming a bit ubiquitous (okay say that ten-times-fast), but I definitely think he makes the world a better place. (See early post here).
WebUrbanist
meanwhile keeps doing damn good curating on a daily basis.  They are definitely on my list: One-Hundred-Blogs-You-Must-Subscribe-To-Before-You-Die-List.  If I was president I would add two hours to each day just so I could surf through their site.  Yesterday they started
an eight part series dedicated to the unknown man.
  So if you were wondering,
that's
why I was in such a smiley mood.
Today (07.22.08) WebUrbanist posted
part two
on the stencils of Banksy.