X
Looks like you are a new visitor to this site. Hello!
Welcome to Hope For Film! Come participate in the discussion, and I encourage you to enter your email address in the sidebar and subscribe. It's free! And easy! If you have any suggestions on how to improve this website or suggestions for topics please don't hesitate to write in to any of the blogs.
You can also follow me on Twitter or Facebook.
(If you keep getting this message, you probably have cookies turned off.)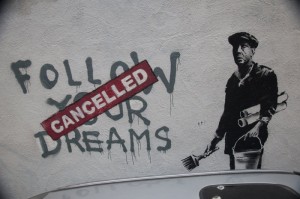 Banksy in Boston…
Thanks to James Lilly for spotting & FBg this!Tweet


Banksy maybe becoming a bit ubiquitous (okay say that ten-times-fast), but I definitely think he makes the world a better place. (See early post here).
WebUrbanist
meanwhile keeps doing damn good curating on a daily basis.  They are definitely on my list: One-Hundred-Blogs-You-Must-Subscribe-To-Before-You-Die-List.  If I was president I would add two hours to each day just so I could surf through their site.  Yesterday they started
an eight part series dedicated to the unknown man.
  So if you were wondering,
that's
why I was in such a smiley mood.
Today (07.22.08) WebUrbanist posted
part two
on the stencils of Banksy.
Cannes has been too expensive for me to attend the last couple of years.  And it is really elitist, isn't it? 
Leave it to Banksy to solve all those problems.  Welcome to The Cans Festival. Well, London is still pricey, but… YouTube is still free (tip from Bryan B.)
The Banksy book
"Wall And Piece"
has been a popular one in our house.  My son spotted some wild-posting for a recent show of Banksy's on the day it opened and not only got us there ahead of the swarm but proceeded to pontificate to all attendees on the quality and political ramifications of his various pranks.  Not bad for someone barely over 4 feet tall.  Banksy's done more to keep politics and resistance fun and accessible than anyone since The Clash.