X
Looks like you are a new visitor to this site. Hello!
Welcome to Hope For Film! Come participate in the discussion, and I encourage you to enter your email address in the sidebar and subscribe. It's free! And easy! If you have any suggestions on how to improve this website or suggestions for topics please don't hesitate to write in to any of the blogs.
You can also follow me on Twitter or Facebook.
(If you keep getting this message, you probably have cookies turned off.)
Why Producing Is Not My Profession
By Ted Hope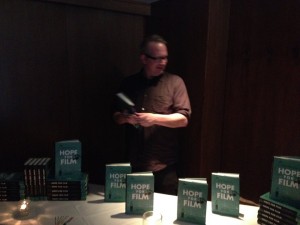 In reviewing my book, Nick DeMartino captures a great deal of what I am feeling these days. I think we can move things forward and build it better together.  Nick spots how my love of cinema drew us forward and then how that same love drew me away from a focus on project producing.
"At a certain point, living an independent life, you start to recognize how fragile the whole enterprise is. You can't afford to ignore the big picture. And you can't do it alone," writes Hope, as he shifts gears in the final chapters to share the story of how he left New York and hands-on production to focus on that "reboot," first in an ill-fated stint at the San Francisco Film Society, and now as CEO of Fandor, an indie-focused streaming video-on-demand service, where he's busy trying to tackle some of the "141 Problems and Opportunities for the Independent Film World," which is included in this book as an appendix. 
One of the really interesting things for me is that Nick brings up David Picker's book.  David was one of only a few of established industry folks who reached out to James Schamus and I early on (Francis Coppola was another).  His vote of support for what we were doing increased my confidence and demonstrated to me that it is always both a community enterprise and a process.  Step by step we build it better together.
Please read Nick's review here.  Perhaps it will lead you buy the book!  I am deeply moved when someone takes the time to write a review and post it, be it on their blog, Facebook, Amazon, or wherever.  It helps so much.  I am trying to do that more with the movies I love and am moved by.  It is a community obligation.