X
Looks like you are a new visitor to this site. Hello!
Welcome to Hope For Film! Come participate in the discussion, and I encourage you to enter your email address in the sidebar and subscribe. It's free! And easy! If you have any suggestions on how to improve this website or suggestions for topics please don't hesitate to write in to any of the blogs.
You can also follow me on Twitter or Facebook.
(If you keep getting this message, you probably have cookies turned off.)
Yesterday, I ranted a bit about the apparent silence in the film community regarding our collective need for forward thinking experimentation (and support thereof).  The need for such action is reinforced in a recent WSJ article by Clay Shirky promoting his new book:
This issue isn't whether there's lots of dumb stuff online—there is, just as there is lots of dumb stuff in bookstores. The issue is whether there are any ideas so good today that they will survive into the future. Several early uses of our cognitive surplus, like open source software, look like they will pass that test.

The past was not as golden, nor is the present as tawdry, as the pessimists suggest, but the only thing really worth arguing about is the future. It is our misfortune, as a historical generation, to live through the largest expansion in expressive capability in human history, a misfortune because abundance breaks more things than scarcity. We are now witnessing the rapid stress of older institutions accompanied by the slow and fitful development of cultural alternatives. Just as required education was a response to print, using the Internet well will require new cultural institutions as well, not just new technologies.
Yes, we are overwhelmed.  There are too many choices.  But solutions are being found.  And the tools have never been better.  How can you not be moved by stories of discovery like this.
Even more so, the benefits of such future focus is underscored by this great video based on Philip Zimabardo's lecture that my wife, Vanessa, turned me on to: [...]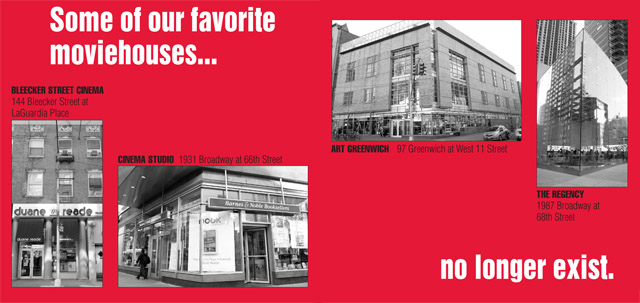 This is a re-post of an email I got from Film Forum. I thought you all should consider it. It is reprinted without permission…

Each of these NYC cinemas played provocative art films and/or classic revivals. But over the years they closed their doors for any number of reasons. Not one is in business today.
The Metro, The Baronet, Festival Theatre, Cinema Studio, 68th Street Playhouse, Carnegie Hall Cinema, Art Greenwich, Garrick Cinema, The New Yorker, Charles Theatre, The Little Carnegie, 55th Street Playhouse, The Gramercy, The Coronet, Embassy 72nd Street Theatre, Fine Arts Theatre, Sutton Theater, The Beekman, Bleecker Street Cinema, The Elgin, Cinema III, 8th Street Playhouse, The Biograph, Plaza Theatre, The St. Marks, First Avenue Screening Room, The Regency Theatre [...] Tweet

What a great resource  Cinema Treasures is!  It's got a listing of 1000s of cinemas.
And if you want Art Houses, PBS' Independent Lens made this nifty map. Now you can find out where you want your film to play anywhere in the 'ol USA. Hat tip again to MovieCityNews for leading the way with these pieces.
Finding the right place to play your film has never been very easy. That sort of specified knowledge has been one of the many reasons traditional distributors have hung around as long as they have. That's all starting to change though. The Workbook Project has been doing a theater mapping project for years now. You've gotta love their map.
Of course if you want to start booking your own theaters, it's not so easy.  There are some nice new developments out there though.
Check out Good Screenings in the UK, and Open Indie here.Tweet

Founded by filmmaker Allison Anders and musician/daughter Tiffany Anders, Don't Knock The Rock Film And Music Festival, Los Angeles has been bringing amazing off the radar films and live performances to the sophisticated music nerd and diehard music fan for the past 6 years.
For those of you who don't know the fest, and don't want to take my word for it, Variety just gave them a nice shout out.
Now the festival needs your help and has started a KickStarter campaign to show you how.  If you are in Los Angeles, you particularly don't want to miss this, as the awards are, not surprisingly, a bit festival-centric.