X
Looks like you are a new visitor to this site. Hello!
Welcome to Hope For Film! Come participate in the discussion, and I encourage you to enter your email address in the sidebar and subscribe. It's free! And easy! If you have any suggestions on how to improve this website or suggestions for topics please don't hesitate to write in to any of the blogs.
You can also follow me on Twitter or Facebook.
(If you keep getting this message, you probably have cookies turned off.)
Okay, we aim for mastery (yes and autonomy and purpose too) but it's most exciting to grow.  And personally I think it is more exciting to WATCH someone who is learning than someone who is demonstrating what they know.  I describe this as loving the experiment over the proof.  I get chills when I watch [...]
There is little I hate more in life than online advertising. Dental visits, food poisoning, taxes; I hate ads more. That's at least what I would have told you a few years ago, and I would have been right. I'd tell you that they were the worst thing to happen to filmed entertainment since online streaming began. You think anyone is going to risk sitting through five commercial breaks on Hulu to watch your random indie movie? Our overstimulated brains have a hard enough time keeping focused and interested as it is.
So what's a cinephile to do? [...]
We love to bring down oppressive regimes — at least in our films. What does this say about our ability to recognize our own situation regarding our desire for greater freedoms? Are we tapping our desire for change with the stories we tell? Are our artists as free to explore this desire for change as we think? Do they have to take the quiet road when walking that talk? If they are somehow oppressed, how and where is the oppression manifest? What can we learn by examining the work we made, distributed, and consumed this year?
In other words, if art is partially about showing us all that we can aspire to as individuals, communities, and a planet, what are our films telling us about where we should be headed this coming year? [...]
Okay, I did not get it all right last year.  Perhaps you think my crystal ball had a crack in it. But I did not say they would all hit this year. Check back on 2014′s predictions come the 2020′s and you might be surprised how right I am. Or not, but still if we don't look at where we think we are going, how are we to pave the roads to take us there?
So what I do I predict this year for the years ahead? In examining this list, take in mind that I am not advocating for these developments, nor am I ranking them.  I just took the moments needed to examine where we are today, what's been said, and where it may all lead. I'd love to hear your thoughts on this and where you think it may go too. [...]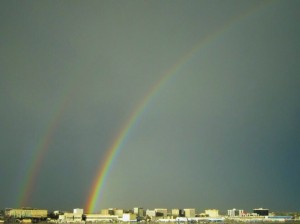 I was going to post about the fun and vitality of look books. Removing the writer's hat and stepping into the director's shoes to create the bridge that offers potential producers, managers or investors a first glimpse into how you intend to transform your story into a visually vibrant world. Next time. After reading an inspiring article by Ariston Anderson in Filmmaker Magazine about David Lynch, I slammed on my brakes to focus on a more esoteric topic: hope.
DL: "Looking back I did not have much self-assuredness in the beginning."
Whether you enjoy his work or not, David Lynch is one of the most unique cinematic artists of our generation. [...]
This past week or so, you had a chance to read some new excerpts from my book. If they don't convince you to get "Hope For Film" as a gift for yourself or any film fan you know, what will?  Check these out: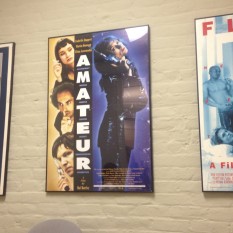 Gary Meyer's blog EatDrinkFilms captures three of life's great pleasures in a single dose. I am very pleased to have one of my favorite tales from my book excerpted there now.
Picture this: it is the first film you've financed yourself. You and your team are in a foreign land. Your money has been cut off and your financier picks […]
We are trying something a wee bit different this year. Instead of launching with a massive list of either the good and the bad, I've teamed up with some partners to help distribute the news.  What's good or bad in the film biz in 2014? Well check out Film Comment for ten good (complete with swell photo selection) and check […]
Less than 30% of all speaking characters in the 100 top-grossing films are female. "If filmmakers just added five female speaking characters to their current slate of projects (without taking away or changing any of the male characters) and repeated the process for four years, we would be at parity."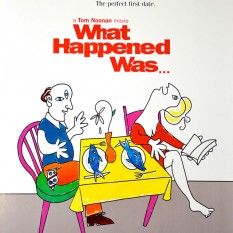 Recently Jon Brooks at KQED wrote up a very nice piece on Tom Noonan's WHAT HAPPENED WAS (1994). That film won multiple awards at Sundance but barely go seen.  Unfortunately it does not sleep alone in my bed of barely seen almost-masterpieces.  As strong as my track record may be, it still holds some flops, misfires, and damn bad luck […]